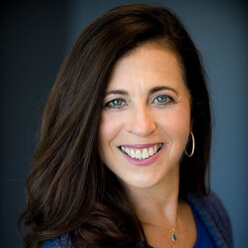 Amy K. Slotnick
Area Manager
NMLS: 27030
180 Wells Avenue, Suite 300
Newton, Massachusetts 02459
Amy Slotnick brings over 36 years of industry experience to Fairway Independent Mortgage Corporation. She joined the company in 2007 and quickly became the company's number one producing loan originator, a title she held for six years. In 2014 Amy became the branch manager of the Newton office with satellites in Holden, Hingham, Scituate and Vero Beach, Florida. In addition to her responsibilities as a producing Branch Manager, Slotnick commits time to coaching and teaching the Fundamentals of Loan Origination within Ignite, Fairway's coaching platform.
Slotnick began her career in the mortgage industry as an underwriter and quickly gained experience in every facet of the mortgage industry including operations, sales, management and ownership. Slotnick believes that customer service is the key to success in the mortgage industry. "I work for my customers to provide them with the most positive overall experience," she says, adding that "my customers benefit from my experience in that I was first an operations person and then a sales person. It is my belief that most companies within the mortgage industry offer comparable rates and programs. It is the quality of service and depth of knowledge that defines a true mortgage professional. I put my 33 years of experience to work for my customers." Slotnick believes Fairway has been the greatest professional experience for her as its corporate philosophy of speed, service and satisfaction directly mirrors her personal belief in customer service.
Within Fairway, Slotnick has been recognized as part of Fairway's Chairman's Club; closing $40 million or more in a single-year. Additionally, in 2013 Slotnick was recognized as the first recipient of Fairway's Daryll Jacobson Courage in Business Award, recognizing those within the company that have demonstrated immense courage. Slotnick has been recognized consistently by industry leaders as part of the top 1 percent of loan originators in the United States as well as a Five Star Professional three years in a row, an award voted on by past and present clients as well as realtors and other members of the industry.
Slotnick is a graduate of Simmons College with degrees in Economics and Political Science. She resides in Brookline with her husband and mother-in-law and takes every opportunity to visit her daughter in Washington, D.C.
About Fairway

Whether you're looking to buy, build or refinance your home, our experienced mortgage professionals are here to help. Here at Fairway Independent Mortgage Corporation, we offer a variety of loan options that can help you achieve homeownership with the speed and service you deserve. Plus, our mortgage professionals are dedicated to finding the right loan to meet your specific needs.
Financing a home is one of the biggest commitments you will ever make – let us help guide you throughout the entire loan process from application to closing and beyond. We look forward to putting our mortgage service to work for you!